back
Kohinata Makie (小日向 まき絵)
Age
: 33 (born June 1973)
Marital status
: divorced for 11 years by now
Children
: one daughter, Nanoka
Haircolour
: dyed copper
Measurements
: 1.61m, 44kg, 83/56/82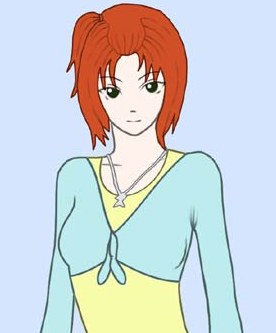 Shiro by DaFool
Description
Makie is a petite attractive woman in her early thirties. She usually wears expensive brands and exquisite fashion. She likes sophisticated make-up, which is not only a passion of hers, but also her profession. Using her beauty she learnt how to control men, even though she isn't very fond of the male sex.
Occupation
Makie owns the "Matsuri Beauty Parlour" in the city center up north. She had been an employee there for years and was offered to take over the business as her tencho decided to retire. She also owns a little house in the southern suburbs. So she has to commute about one hour by car to get to work. The business is successfull, but she had to work hard for that, which led to neglecting her daughter Nanoka. Therefore - about a year ago - she spent a considerable amount of her savings on the Arcon-IX Persocon Shiro to have someone to look after Nanoka. Ironically now Makie is short on money and needs to be working even harder, resulting in even less time for Nanoka.
Personality
Makie is quite unpredictable. She is selfish and egocentric, especially when it comes to her business. She is extroverted and can be obnoxiously lively. She loves her work as a beautician, because she loves to be beautiful and to give beauty to her clients. She does neglect Nanoka - for several reasons. To begin with: she never wanted to get pregnant. Then she was forced to keep the baby. Now after all these years she got used to having company at home and she does love Nanoka, but it is also part of her nature to simply forget about her daughter. Nevertheless Makie wants to make sure that her daughter will never experience similar hardship as she did, i.e. getting pregnant because of 'some careless old man'. Sometimes she feels guilty for neglecting Nanoka. She then buys her daughter expensive gifts, which however seems to have a tendency to only make things worse - on each end. Makie tries to forget most of her issues by drinking. She is not an alcoholic, but she has developed a preference for being tipsy as she feels it makes life easier to bear. In that state of mind she is even more unpredictable. Paradoxically Makie is a notorious flirt despite her dislike for men. She believes Zenzo is the source of all her sorrows and sufferings. A psychological trauma she still hasn't overcome, yet. Makie also hates her parents for what they had put her through.